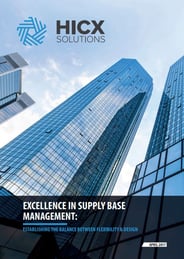 Over the past decade, the dynamics of managing a business infrastructure has changed tremendously.
Combined with a number of factors that include accelerated competition from global markets, amplified government regulation at all levels (e.g. local, national, international) and increased reliance on enterprise technology, businesses large and small face the combined challenge of improving internal operations while trying to deliver effective approaches in managing their suppliers.
Research suggests that a majority of organisations continue to struggle with some aspects of supplier management.
Whether it is working with critical suppliers or just trying to onboard one time suppliers, suppliers play such an important role in helping an organization be successful in its business endeavours.
***
To get access to this free report, Excellence in Supply Base Management, simply complete the form on this page.